An Unforgettable Adventure Experience!
Looking for active days filled with adventure? We've got that at Wing Creek Resort! This area is an outdoor enthusiast's dream.
Land-based adventures include phenomenal hiking, rock climbing, skiing, golfing, spelunking (caving), mountain biking, road cycling and zip lines.
Water-based adventures include boating, kayaking, stand up paddle boarding, canoeing, wind surfing, whitewater rafting, sailing, world-class fishing, and hot springs. This is an incredible lake to explore by water with many hidden gems to discover and water-access-only marine parks.
There are so many choices it can be a bit overwhelming. At Wing Creek Resort, we are happy to simplify things and create a custom package just for YOU!
Kayaking
Ziplining
Caving
Golfing
Hiking
Fishing
Kayaking/SUP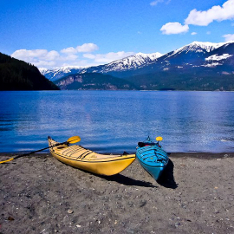 Kayaking on pristine Kootenay Lake is not to be missed! Imagine paddling along the ancient shores of Kootenay Lake in a colourful sea kayak. A trip to this area is not complete without experiencing the pure joy of exploring this incredible lake — with the assistance of the capable and friendly folks at Kaslo Kayaking. You can even experience the thrill of discovering remote waterfalls and ancient petroglyphs, all accessible only by water.
Never been in a kayak?  Always wanted to try a stand up paddle (SUP) board? This is a perfect opportunity to try it all in a beautiful and peaceful setting.  No crowds, no pressure. The guides will ensure you are totally at ease and comfortable before you set out so your first experience will be both exciting and enjoyable.
Ziplining
Get ready to feel the wind in your hair as you soar at speeds up to 100 kilometres per hour, high above the scenic canyon stretched out below you. The skilled guides at Kokanee Mountain Zipline take care of everything, from transport up to the launch platform and clipping you in and out of your safety harness to making sure you have an unforgettable time. All you have to do is show up, take that first step and enjoy what gravity and nature have in store for you.
With nearly a mile of ziplines laid out between two picturesque BC provincial parks, these exciting tours offer jaw-dropping views of the mountain ranges and Kootenay Lake below. See this area's amazing scenery from previously inaccessible viewpoints and gain some boasting rights to boot.
Caving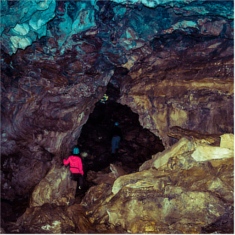 At Cody Caves, located in the Selkirk Mountains above Ainsworth Hot Springs and Kootenay Lake, you can explore a wild yet fragile, underground world that has been meticulously sculpted by years upon years of glacier-fed waters. Owner/operator Lee Hollis and his professional guides offer a caving experience suitable for novices and experienced spelunkers alike. No experience is necessary to enjoy this subterranean adventure!
Inside the caves you will explore large entrance chambers and descend Cody Falls observing pristine sedimentary rock formations. Your guide will provide educational interpretation while escorting you through this fragile environment of pristine soda straws, stalactites, stalagmites, calcite and sedimentary rock formations. During the extensive exploration you will see huge granite boulders, impressive galleries and stream passages.
Golfing

Just minutes from Wing Creek Resort, the Kaslo Golf Club offers a unique challenge for golfers of all skill levels. Rich in history and charm, the nine-hole course features challenging topography and stunning views nestled between the Purcell and Selkirk Mountain ranges and perched over Kootenay Lake. Established in 1923, this is both the oldest course in the Kootenays and one of the most beautiful in the region. Add in the magnificent modern timber frame clubhouse and great food and it becomes a must for every golfer.
You may also wish to challenge yourself at some of the other beautiful championship courses on the shores of Kootenay Lake. Balfour Golf Course is a 6510-yard, 18-hole championship golfing challenge designed by Les Furber, featuring panoramic views of Kootenay Lake and winding through lakefront meadows and majestic forests. Kokanee Springs Golf Course is a Norman Woods championship 18-hole course in a  mountain setting on Kootenay Lake offering scenic views of Kokanee Glacier and the surrounding area.
Hiking
 
Wing Creek Resort is in the centre of an area brimming with world-class hiking. This area, stretching from the Selkirk Mountains in the west and the Purcell Mountains in the east, consists of soaring mountains, clear bubbling streams, forest-covered valleys and large inland lakes. We offer trails that can challenge and satisfy hikers of all abilities, with a large number of short and longer hikes easily accessible to our guests.
Take time out to visit the many heritage buildings, old mining ghost towns, abandoned railways and quarries.
Wildlife thrives here too, so keep your camera at the ready to photograph for deer, elk, moose, caribou, bighorn sheep, mountain goats, black bears and grizzly bears. Overhead, watch for bald eagles, blue herons and osprey, and in the lakes you're sure to see waterfowl galore.
Fishing
There are several excellent local charter companies offering premier fishing packages for some of the best fishing anywhere.  Kootenay Lake is world famous for being home to the giant Gerrard rainbow trout, which is the world's largest wild rainbow trout species. Bull trout are also plentiful and make for some great fishing adventures and tales. Kootenay Lake never freezes over in the winter, so it is perfect for year-round fishing. Knowledgeable locals will tell you what's biting, where and what lures to use. You can get fishing licences for just a day or for the year, locally or online.
Water Adventure Package
3 nights of accommodation in a Cedarbrook Cottage, 2 days of activities:
Sunset Kayak Paddle for Two
Chartered Fishing Trip for Two – Reel Adventures
Two 55-minute Massages in the Falling Water Spa
Total Price including Accommodations: Starting at $2039 + tax per couple
Mountain Adventure Package
3 nights of accommodation in a Cedarbrook Cottage, 2 days of activities:
Ziplining Adventure for Two
Spelunking (caving) Adventure for two
Two 55-minute Massages in the Falling Water Spa
Total Price including Accommodations: Starting at $1889 + tax per couple