Planning a small Kootenay Lake event or retreat?
Wing Creek Resort can handle all your meeting needs for small groups of up to 20 people in our beautiful timber frame Retreat Centre. From set up to catering and AV equipment, we can make your next event a big success and your event planning a snap. We also schedule a limited number of retreats each year as well as artist and artisan showings.
Contact us and let's start planning your next event or retreat!
250-353-2475
The Owners – Debra and Kevin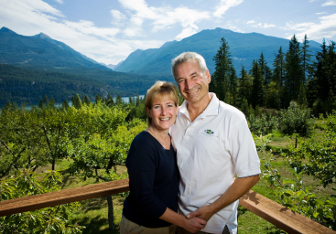 We are the proud owners of Wing Creek Resort — and delighted to be escapees from the big city corporate rat race. We have created and continue to evolve Wing Creek Resort as an adult sanctuary and natural paradise.  Since we started in 2004 our guests, who come to us from all over the world, have been telling us what makes Wing Creek so special and how we can make it even better. What you will see is the realization of our dream (so far!) and the incorporation of hundreds of ideas from our guests. As a result, we think Wing Creek Resort is one of the most beautiful places in Canada. We can't thank you enough for all your help and support!