Wing Creek Resort Amenities
In addition to our beautiful Kootenay Lake accommodation options, Wing Creek Resort offers: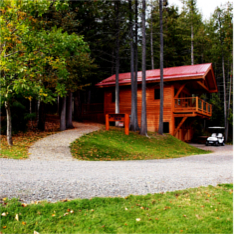 Wing Creek Retreat Centre
The Retreat Centre offers guests a beautiful timber frame space to relax and enjoy free Wi-fi internet, yoga mats, games, books and bistro tables on a deck with spectacular views of Kootenay Lake and the Purcell Mountains.
If you order our delicious breakfast option, you may decide to eat on the deck at one of our trendy bistro tables to the soothing sounds of the creek cascading over mini-waterfalls right beside you.
Wing Creek Gallery
The Gallery offers guests the opportunity to experience or purchase the art & crafts of many local artists and artisans. These works change frequently and include exquisite paintings, sculpture, wood furniture and more. Wing Creek Resort participates in the annual Kaslo Art Walk and currently features the watercolours and art cards of talented local artists Kate O'Keefe and Mary Norton.
Wing Creek Gift Shop
The Gift Shop features a range of art and crafts hand-made by local artists and artisans to enhance your Kootenay experience or to take home as a reminder to return to this beautiful area soon.
A sample of some of our Gift Shop items:
Organic Wing Creek Jams & Jellies – All of our jams and jellies are hand-made from 100% organic fruit grown exclusively here in the Wing Creek orchard and contain no preservatives.
Beeswax Candles – Beeswax candles made of 100% pure beeswax are handcrafted by Honey Candles artisans just down the highway and shipped all over North America. Available in natural and coloured beeswax and in a range of sizes from pillars and tapers to votives and ornamentals.
Soaps – Handcrafted soaps by Kaslo's Back Dirt Road featuring a wide range of scents from floral to fresh to earthy.
Wood Crafts – Candle holders and cutting boards beautifully hand-crafted using maple, cherry, walnut and a variety of exotic woods.
Rock Sculpture – Talented artisan Frank Bitonti spends summer time at Kootenay Lake and is inspired to create a wide variety of trees and bears, reflecting two of this area's predominant attractions.
Art – A wide selection of photographs and paintings of local scenery and wildlife by local photographers and artists. Framed and unframed originals.
Art Cards – A beautiful assortment of original watercolour art cards and prints, complete with envelopes to help you share your memories.
All buildings at Wing Creek feature unique timber frame architecture, crafted with precise care and attention to detail by local craftsmen, blacksmiths and artisans.
Gift Certificates
Gift certificates in any denomination are always available for those people on your gift list that are hard to buy for!