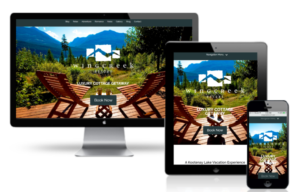 We are (finally!) delighted to introduce … the new responsive Wing Creek Resort website! We have been hard at work on this brand new, fully-responsive website design for quite some time in an effort to make it easier for you to find us and to view us on your tablet or smartphone – and so Google will love us again.
Positive guest feedback
The biggest challenge for us was that almost every guest has told us how much they loved our previous website — so we were afraid to change it! Throughout the process we felt we were walking a delicate tightrope, trying to create a fresh, new look and add lots more functionality, without losing anything our guests have told us they love. Testing so far indicates our guests will love the new website too. We sure hope so!
Hoffport created an easy-to-use site with a fresh look
Hoffport, a talented Kelowna-based marketing  company, has provided a complete, end-to-end service for us with this new website, custom-creating a crisp, clean design for our prospective guests, organized into intuitive sections so you can easily find information on our cottages, vacation home, romance and adventure packages and much more. It is a great showcase for our content and photographs and helps us tell our story. The marketing experts at Hoffport helped us move to our fourth new platform, which makes it easy for us to keep the information updated and to post a new blog whenever we have news to share. Hoffport took complete control of the migration from our old site to this great new site, providing excellent web design service, a multitude of customizations and unsurpassed customer service every step of the way.
New online booking system
Perhaps the most exciting development is the addition of an online booking engine so you can book online without having to call or email us. Of course, if you prefer, you can still call or email us for extra information before booking — we love that. But for those of you who simply want a fast and efficient method to book your stay at Wing Creek, we can now provide online booking, for the first time ever.
Breathtaking resort and area photos
We have also sifted through tons of spectacular photographs trying to determine the best ones to show you.  We have many years of incredible photographs from all seasons to try to show you what Wing Creek Resort, Kootenay Lake and the Kaslo area are like. But, really, you should just come and see Wing Creek for yourself! We love to meet our guests from all over the world and, in all honesty, our guests take the absolute best photos of the resort and area!
Your turn
Speaking of guests, this year is shaping up to be an extremely busy one, based on inquiries and bookings to date. For example, we could have rented out every cottage at least twice over on Valentine's Day weekend alone! It probably goes without saying that the busiest weekends and weeks are already booking up fast so it's best to book as early as possible to secure your preferred dates! We look forward to hosting you here at Wing Creek Resort — and to your comments about our new website!