The weather has been so fantastic this spring, we're tempted to call these Summer Specials!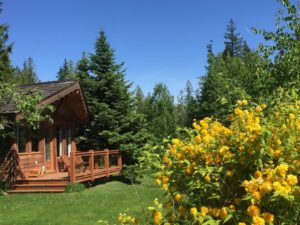 To encourage you to come and experience the perfect couples vacation for yourselves, we're offering some great specials to try us out. Enjoy a special couples getaway in this romantic destination.
Treat yourselves to a romantic Spring Getaway for two at Wing Creek Resort — enjoy the beautiful views of pristine Kootenay Lake and the spectacular Purcell Mountains, framed by these vibrant yellow blossoms, as well as the pink and white cherry and apple blossoms at our peaceful Kootenay Lake resort.
Romantic cabin getaway with woodburning fireplace & wine.
Enjoy a Cedarbrook Cottage for 3 nights for the two of you and treat yourself to a bottle of BC VQA wine — all for just $599 + tax!
Relaxing spa special in a romantic cabin. Just for two.
Enjoy a Cedarbrook Cottage for 4 nights for the two of you and relax with two 55-minute massages — all for just $899 + tax.
In serious need of peace and quiet?
Reserve a Cedarbrook Cottage for 2 nights just for yourself — special solo rate of $339 + tax. This is the perfect place to get away and relax, think, write, draw, meditate or practice yoga!
Thinking of coming up from the US? Our American guests save even more with our very favourable exchange rate! Take advantage of the strong US dollar!
Reserve Now – very limited Spring dates available!